Food Porn: Baltimore Food Truck Guide
---
Many major cities around the country have seen a resurgence in the number of food trucks roaming their streets over the past few years. Baltimore is no exception to this trend. However, these food trucks are not your stereotypical roach coaches that you imagine or may have seen in the movies. No. These new trucks are roaming gourmet kitchens, delivering food that is just as good, if not better, as your normal lunch spot. Here is your guide to some of Bmore's best food trucks.
This new era of food trucks has two great tools at their disposal: Internet and social media. Check out their websites for copies of their menus and check their Facebook and Twitter pages for locations each day.
Sultan Food Truck (Indian)
@SultanFoodTruck sultanfoodtruck.com facebook.com/sultanfoodtruck
This Indian import can be found roaming the street around Downtown, the Inner Harbor, and Mt. Vernon. They offer traditional Indian dishes like Chicken Tikka Masala, Puled Lamb, and Lentil Soup.
Philly Mignon


@PhillyMignonnet phillymignon.net facebook.com/phillymignon
As a Baltimore native, it has been ingrained in me to think poorly of Philly. However, one thing I will say they got right is their cheese steaks. It is not uncommon for my friends and I to make a random trip up to our neighbor to the north for a couple Wiz, Witouts from Pat's. This family operated newcomer to the Baltimore food truck scene, brings the Philly Cheese Steak to the streets of Baltimore. This is one truck you certainly want to track down.
The Jolly Pig

@TheJollyPig thejollypig.com facebook.com/thejollypig
This pink and white city cruiser is hard to miss if you find yourself in the areas near Hopkins, UMD, State Center, or Center Stage. True to their name, they deliver everyone's favorite swine dripping in BBQ sauce. Their menu features a variety of BBQ tacos, with an ethnic twist, such as Cuban, Korean, Jamaican Jerk, and Bavarian. However, their classic Carolina BBQ is a standout.
Miss Shirley's


@MissShirleys missshirleys.com facebook.com/missshirleys
This north Baltimore native has exploded in the past few years. In addition to their original location on Cold Spring Lane, they have location in the Inner Harbor, Annapolis, and now on wheels. The truck menu features some of the standout sandwiches from its bigger siblings, such as the Almond Chicken Salad, and the California Chicken BLT. The menu also features some breakfast treats.
Gypsy Queen Cafe


@TheGypsyTruck gypsyqueencafe.com facebook.com/gypsyqueen
This wondering soul has not one, but two trucks servicing Charm City. This duo has one of the larger service areas, making weekly stops in Canton, Hampden, Inner Harbor, UMD, and Hopkins. Their menu is diverse and items take their name after areas of our fair city, such as the Fells Point (crab cake tacos), the Canton (burger sliders) and the Highlandtown (flounder po'boy).
Woody's Taco Island


@WoodysTacos woodystacoisland.com facebook.com/woodystacoisland
The mural painted on this truck will make you feel as though you are sitting at an island tiki bar, even though you are smack dab in the middle of Baltimore. This rolling gem specializes in Caribbean and Creole inspired tacos. However, you can never go wrong with keeping it simple and getting the fish tacos.
Souper Freaks

@SouperFreaky facebook.com/Souper-Freaks
Sometimes you just need a little hot soup to turn your day around. This truck brings you the best homemade soups and accompaniments.
GrrChe


@GrrChe grrche.com facebook.com/grrche
Move over Grilled Cheese Co., GrrChe is making a run at the King of Grilled Cheese crown. This rolling chedda wagon is serving up delicious grilled cheese creations all around Bmore. Track down the truck and feast on grilled cheese stuffed with jumbo lump crab meat, philly cheese steak, or jalapenos. For the ultimate artery clogger order the Monster Grill: 1/3 pound burger, applewood smoked bacon, shaved rib eye, a fried egg, and three different cheeses.
Kooper's Chowhound

@BRGRwagon kooperschowhound.com facebook.com/BRGRwagon
Voted "Baltimore's Best Food Truck" in 2011 by City Paper, this rolling burger joint serves up a variety of specialty burgers or you can simply build your own. If the burgers arn't enough to lure you in, check out the sweet potato fries or truffle fries. Be sure to catch the Chowhound this spring and summer at all of the Hopkins Men's Lacrosse home games.
Kommie Pig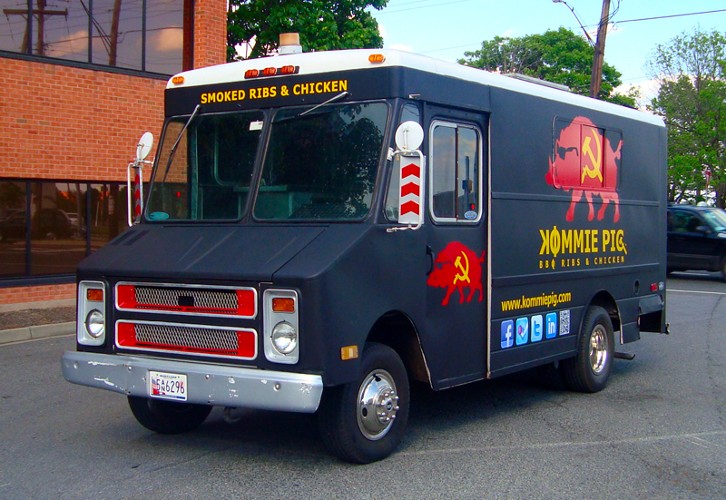 @kommiepgibbq kommiepig.com facebook.com/kommiepig
As its name implies, this Cold War throwback specializes in all things pig. Their menu features smoked ribs, pulled pork, and hot dogs. Not in the mood for the other white meat? No worries, Kommie has a couple of chicken offerings as well. The other great thing about this truck: they do late night service to satisfy your drunk munch. If that doesn't get you jacked up about Kommie's, I don't know what will.